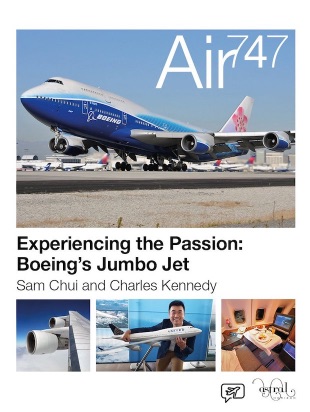 AIR 747 Sam Chui and Charles Kennedy
Sam Chui is one of the world's best-known aviation and travel personalities, known for his million-hit vlogs and pioneering photography. The book series Air was born out of passion and devotion to aviation. This, the fourth, is dedicated to one plane, where the love started. The Boeing 747.

Air 747 takes the reader on a journey through the story of the Jumbo Jet, from early Classics to the -400 and the stretched -8i, aboard airlines that span the globe. Fly with Sam on Asian powerhouses like Cathay Pacific, Japan ​Airlines, Singapore Airlines and Air China. To Europe on Lufthansa and British Airways. Meet Sam's first love, United, and age-defying Iran Air's 747SPs. Obscure operators are well-represented: Orient Thai, Kuwait, Rossiya, Air Pacific, Pakistan International, Mahan Air.

Author and pilot Charles Kennedy contributes a historical essay and additional notes throughout. This is an essential volume for fans of air travel, aerospace, travel, lifestyle and experience.